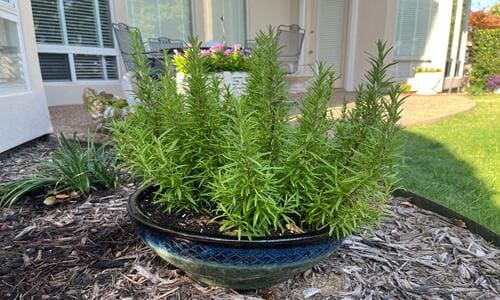 Rosemary: A Resilient and Bunny-Resistant Potted Plant for Thriving Gardens in Dallas, TX Heat
In the scorching heat of Dallas, Texas, where gardening can often feel like a battle against the elements, finding the perfect plant that thrives while also deterring hungry bunnies can be a challenging endeavor. Enter Rosemary (Rosmarinus officinalis), an exceptional potted plant that not only flourishes in the sweltering Texan heat but also stands resilient against nibbling rabbits. This versatile herb is a horticultural gem, offering both aesthetic beauty and practical benefits for gardening enthusiasts seeking a durable and bunny-resistant addition to their outdoor spaces.
Adaptation to Dallas Heat: Rosemary's ability to thrive in hot and arid climates makes it a natural choice for Dallas gardeners seeking a resilient potted plant. Native to the Mediterranean region, rosemary has evolved to endure high temperatures and minimal water availability. Its needle-like leaves and woody stems are adaptations that reduce water loss, making it exceptionally well-suited to the heat challenges of a Texan summer.
Water Efficiency and Drought Tolerance: One of rosemary's most remarkable attributes is its water efficiency and drought tolerance. As an essential oil-producing plant, rosemary's leaves contain aromatic oils that also help reduce moisture loss through transpiration. This means that, once established, rosemary requires minimal watering, making it an environmentally conscious choice for water-scarce regions like Dallas.
Bunny-Resistant Nature: Beyond its heat resistance, rosemary offers a natural solution for deterring rabbits, which can often wreak havoc in gardens. The strong fragrance of rosemary, emanating from its essential oils, acts as a natural repellent to these curious herbivores. As rabbits typically avoid plants with strong scents, rosemary serves as an effective barrier, protecting your garden from potential damage.
Culinary and Aesthetic Delights: In addition to its practical benefits, rosemary brings a touch of elegance and culinary potential to your garden. Its evergreen foliage adds texture and visual interest, providing year-round beauty to your outdoor space. Furthermore, the aromatic leaves of rosemary are a treasure trove for culinary enthusiasts, infusing dishes with its distinct piney aroma and flavor.
Potted Plant Perfection: Growing rosemary in pots further enhances its versatility. Pots allow for easy mobility, enabling you to strategically position your rosemary to maximize sunlight exposure and airflow. You can place potted rosemary near your kitchen, providing convenient access to its flavorful leaves for culinary endeavors.
Cultivation Tips: To ensure the success of your potted rosemary in Dallas's heat, consider using well-draining soil and a container with adequate drainage holes. Position your pot in a location that receives ample sunlight, as rosemary thrives in full sun conditions. Water your rosemary sparingly once established, allowing the top inch of soil to dry out between waterings.