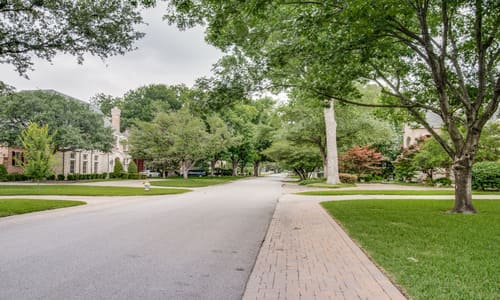 Preston Hollow Dallas Housing Market Report is provided by Debbie Murray at Allie Beth Allman & Associates in Highland Park at 214-558-1004.  Hire a Preston Hollow real estate expert to represent you in the purchase or sale of your Preston Hollow luxury home.
In Debbie's 23 years of residential real estate in the Dallas area she has seen a buyer's market, and seller's market, and a balanced market.  However, one thing is for sure, premier neighborhoods like Preston Hollow are sought after regardless of market fluctuations.  Preston Hollow in Dallas offers an array of homes from mid-century modern, contemporary, Mediterranean, Tudor, traditional, and craftsman.  Located in the private school corridor of Dallas, Preston Hollow is conveniently located between the North Dallas Tollway and 75 Central Expressway.  It is also about fifteen minutes north of downtown Dallas.  Old Preston Hollow or Preston Hollow Estates is located west of the North Dallas Tollway.  The following market report is data from home listings and sales in Preston Hollow between Preston Rd. and Hillcrest Rd., and Royal Lane and Northwest Highway.  Hence the name, North and South of Walnut Hill Ln.
Debbie (and her Broker) specialize in Preston Hollow in Dallas.  Debbie appreciates the charm and beauty of the treelined streets with beautiful homes in the area.  She understands that selling a luxury home is about telling the story of the lifestyle of the home.  Debbie was honored to be named a 2021 Advocate Magazine Top Realtor in Preston Hollow for her residential real estate sales in the area.  Her clients benefit from her BBA in Marketing and her nine professional real estate designations education, including Certified Luxury Home Marketing Specialist, and Master Certified Negotiation Expert.  Contact Debbie today to represent you in your next residential real estate transaction.
Preston Hollow Dallas Housing Market Report, East of Preston Rd. and North And South Of Walnut Hill Ln. up to $6 million- June 2023
ACTIVES
| | | | | | |
| --- | --- | --- | --- | --- | --- |
| Active | 3 | 2 | 1,900 | $685,000 | June-23 |
| Active | 3 | 2 | 1,900 | $1,099,000 | June-23 |
| Active | 4 | 4 | 3,600 | $1,374,000 | July-23 |
| Active | 4 | 5 | 3,800 | $1,595,000 | July-23 |
| Active | 3 | 4 | 3,100 | $1,625,000 | May-23 |
| Active | 5 | 8 | 6,100 | $1,998,000 | July-23 |
| Active | 4 | 5 | 5,300 | $2,249,000 | June-23 |
| Active | 5 | 7 | 5,300 | $2,449,900 | April-23 |
| Active | 5 | 7 | 6,200 | $2,499,000 | July-23 |
| Active | 5 | 5 | 4,800 | $2,650,000 | June-23 |
| Active | 6 | 7 | 5,200 | $2,749,000 | June-23 |
| Active | 5 | 7 | 5,200 | $2,750,000 | June-23 |
SOLDS
| | | | | | | |
| --- | --- | --- | --- | --- | --- | --- |
| Sold | Lakehurst Avenue | 4 | 4 | 4,100 | $2,050,000 | July-23 |
| Sold | Del Norte Lane | 4 | 4 | 3,600 | $1,495,000 | June-23 |
| Sold | Del Norte Lane | 4 | 4 | 3,600 | $1,495,000 | June-23 |
| Sold | Del Norte Lane | 4 | 5 | 3,800 | $1,649,000 | June-23 |
| Sold | Waggoner Drive | 5 | 7 | 6,500 | $2,300,000 | June-23 |
| Sold | Northwood Road | 5 | 6 | 5,200 | $2,650,000 | June-23 |
| Sold | Aberdeen Avenue | 4 | 7 | 6,800 | $2,950,000 | June-23 |
| Sold | Tulip Lane | 5 | 8 | 6,100 | $4,495,000 | June-23 |
42
TOTAL


HOMES SOLD

MID-YEAR SALES TRENDS
$2,332,646


AVERAGE SOLD PRICE

39
AVERAGE


DAYS ON MARKET
---
Preston Hollow Dallas Housing Market Report, East of Preston Rd. and North And South Of Walnut Hill Ln. up to $6 million- MAY 2023
ACTIVES
| | | | | | |
| --- | --- | --- | --- | --- | --- |
| Active | 4 | 4 | 3,600 | $1,389,000 | May-23 |
| Active | 3 | 4 | 3,100 | $1,725,000 | May-23 |
| Active | 5 | 8 | 6,100 | $1,998,000 | October-22 |
| Active | 4 | 4 | 4,100 | $2,050,000 | May-23 |
| Active | 6 | 7 | 5,200 | $2,295,000 | October-22 |
| Active | 5 | 7 | 6,500 | $2,300,000 | April-23 |
| Active | 4 | 4 | 5,000 | $2,495,000 | March-23 |
| Active | 5 | 7 | 5,300 | $2,499,900 | April-23 |
| Active | 6 | 6 | 6,200 | $2,500,000 | May-23 |
| Active | 4 | 8 | 6,900 | $2,749,000 | May-23 |
| Active | 5 | 6 | 5,400 | $2,750,000 | February-23 |
| Active | 4 | 4 | 4,600 | $2,795,000 | September-22 |
SOLDS
| | | | | | | |
| --- | --- | --- | --- | --- | --- | --- |
| Sold | Prestonshire Lane | 3 | 5 | 3,100 | $1,695,000 | May-23 |
| Sold | Aberdeen Avenue | 6 | 7 | 6,900 | $3,575,000 | May-23 |
| Sold | Tulip Lane | 5 | 7 | 5,900 | $3,000,000 | May-23 |
| Sold | Park Lane | 5 | 6 | 6,200 | $3,750,000 | May-23 |
| Sold | Desco Drive | 5 | 7 | 7,300 | $3,495,000 | May-23 |
| Sold | Del Norte Lane | 4 | 5 | 3,700 | $1,495,000 | May-23 |
| Sold | Del Norte Lane | 4 | 5 | 3,900 | $1,549,500 | May-23 |
| Sold | Del Norte Lane | 3 | 2 | 1,800 | $1,095,000 | April-23 |
| Sold | Del Norte Lane | 4 | 4 | 3,700 | $1,389,000 | April-23 |
PRESTON  HOLLOW NORTH AND SOUTH OF WALNUT HILL
AT A GLANCE
9
Homes
Recently Sold
$2,822,138
Average Active
List Price
$2,225,961
Average
Sold Price
---
Preston Hollow Dallas Housing Market Report, East of Preston Rd. and North And South Of Walnut Hill Ln. up to $6 million- april 2023
ACTIVES
If you want to know what your home would sell for in today's market, contact me today at 214.558.1004.
A CTIVE   H O MES   N EAR   Y O U   (SH O WIN G   12   O F   22)
STATUS
BEDS
BATHS
SIZE
LIST PRICE
LIST MONTH
Active
4
4
3,600
$1,495,000
January-23
Active
3
4
3,100
$1,750,000
April-23
Active
5
8
6,100
$1,998,000
October-22
Active
6
7
5,200
$2,295,000
October-22
Active
5
7
6,500
$2,450,000
April-23
Active
5
7
5,300
$2,499,900
April-23
Active
3
4
5,000
$2,690,000
March-23
Active
5
6
5,400
$2,750,000
February-23
Active
4
8
6,900
$2,770,000
November-22
Active
4
4
4,600
$2,795,000
September-22
Active
5
7
5,900
$3,000,000
March-23
Active
4
5
5,200
$3,150,000
March-23
SOLDS
| | | | | | |
| --- | --- | --- | --- | --- | --- |
| Sold | Del Norte Lane | 3 | 2 | 1,800 | $1,095,000 |
| Sold | Lupton Drive | 5 | 6 | 6,700 | $2,950,000 |
| Sold | Del Norte Lane | 3 | 3 | 1,800 | $899,000 |
| Sold | Royal Lane | 3 | 3 | 2,600 | $650,000 |
| Sold | Deloache Avenue | 6 | 7 | 5,800 | $3,895,000 |
| Sold | Lakehurst Avenue | 5 | 7 | 6,600 | $2,750,000 |
| Sold | Northwood Road | 4 | 4 | 3,000 | $999,000 |
| Sold | Park Lane | 5 | 8 | 5,900 | $2,825,000 |
PRESTON HOLLOW


NORTH AND SOUTH OF WALNUT HILL

8
Homes


Recently Sold

$3,077,564
Average Active


List Price

$1,994,000
Average


Sold Price

23
Average Days


On Market
---
Preston Hollow Dallas Housing Market Report, East of Preston Rd. and North And South Of Walnut Hill Ln. up to $6 million- March 2023
ACTIVES
STATUS
BEDS
BATHS
EST. SQ. FT.*
LIST PRICE
LIST MONTH
Active
4
4
3,600
$1,495,000
January-23
Active
3
4
3,100
$1,750,000
April-23
Active
5
8
6,100
$1,998,000
October-22
Active
6
7
5,200
$2,295,000
October-22
Active
5
7
6,500
$2,450,000
April-23
Active
5
7
5,300
$2,499,900
April-23
Active
3
4
5,000
$2,690,000
March-23
Active
5
6
5,400
$2,750,000
February-23
Active
4
8
6,900
$2,770,000
November-22
Active
4
4
4,600
$2,795,000
September-22
Active
5
7
5,900
$3,000,000
March-23
Active
4
5
5,200
$3,150,000
March-23
SOLDS
| | | | | | |
| --- | --- | --- | --- | --- | --- |
| Sold | Del Norte Lane | 3 | 2 | 1,800 | $1,095,000 |
| Sold | Lupton Drive | 5 | 6 | 6,700 | $2,950,000 |
| Sold | Del Norte Lane | 3 | 3 | 1,800 | $899,000 |
| Sold | Royal Lane | 3 | 3 | 2,600 | $650,000 |
| Sold | Deloache Avenue | 6 | 7 | 5,800 | $3,895,000 |
| Sold | Lakehurst Avenue | 5 | 7 | 6,600 | $2,750,000 |
| Sold | Northwood Road | 4 | 4 | 3,000 | $999,000 |
| Sold | Park Lane | 5 | 8 | 5,900 | $2,825,000 |
PRESTON HOLLOW


NORTH AND SOUTH OF WALNUT HILL

8
Homes


Recently Sold

$3,077,564
Average Active


List Price

$1,994,000
Average


Sold Price

23
Average Days


On Market
---
Preston Hollow Dallas Housing Market Report, East of Preston Rd. and North And South Of Walnut Hill Ln. up to $6 million- FEBuary 2023
ACTIVES
| | | | | | |
| --- | --- | --- | --- | --- | --- |
| Active | 3 | 2 | 1,900 | $927,000 | November-22 |
| Active | 4 | 3 | 3,800 | $1,389,000 | February-23 |
| Active | 4 | 4 | 3,700 | $1,649,000 | January-23 |
| Active | 4 | 4 | 3,600 | $1,649,500 | January-23 |
| Active | 4 | 4 | 3,600 | $1,649,500 | January-23 |
| Active | 4 | 4 | 3,900 | $1,749,500 | January-23 |
| Active | 6 | 6 | 5,200 | $2,295,000 | October-22 |
| Active | 5 | 7 | 6,100 | $2,348,000 | October-22 |
| Active | 5 | 5 | 5,800 | $2,625,000 | February-23 |
| Active | 5 | 5 | 5,500 | $2,750,000 | February-23 |
SOLDS
| | | | | | | |
| --- | --- | --- | --- | --- | --- | --- |
| Sold | Glendora Avenue | 3 | 2 | 1,900 | $750,000 | February-23 |
| Sold | Park Lane | 6 | 4 | 5,000 | $2,100,000 | February-23 |
| Sold | Aberdeen Avenue | 5 | 4 | 5,400 | $2,499,000 | February-23 |
| Sold | Orchid Lane | 5 | 5 | 6,900 | $4,250,000 | February-23 |
| Sold | Chevy Chase Avenue | 4 | 4 | 5,300 | $2,995,000 | January-23 |
| Sold | Prestonshire Lane | 4 | 4 | 8,300 | $3,650,000 | January-23 |
| Sold | Prestonshire Lane | 4 | 3 | 5,500 | $2,150,000 | December-22 |
PRESTON  HOLLOW NORTH AND SOUTH OF WALNUT HILL
7
Homes
Recently Sold
$2,518,208
Average Active
List Price
$2,517,714
Average
Sold Price
72
Average Days
On Market (Solds)
---
Preston Hollow Dallas Housing Market Report, East of Preston Rd. and North And South Of Walnut Hill Ln. up to $6 million- January 2023
ACTIVES
| | | | | | |
| --- | --- | --- | --- | --- | --- |
| Active | 6 | 6 | 5,200 | $2,295,000 | October-22 |
| Active | 5 | 7 | 6,100 | $2,348,000 | October-22 |
| Active | 7 | 6 | 6,600 | $2,750,000 | January-23 |
| Active | 4 | 3 | 4,600 | $2,795,000 | September-22 |
| Active | 5 | 5 | 6,600 | $2,900,000 | November-22 |
| Active | 4 | 6 | 6,900 | $3,099,999 | November-22 |
| Active | 5 | 5 | 6,900 | $3,595,330 | January-23 |
| Active | 6 | 6 | 5,800 | $3,749,500 | March-22 |
| Active | 6 | 6 | 5,800 | $3,995,000 | January-23 |
| Active | 5 | 5 | 6,500 | $4,295,000 | October-22 |
SOLDS
| | | | | | | |
| --- | --- | --- | --- | --- | --- | --- |
| Sold | Chevy Chase Avenue | 4 | 4 | 5,300 | $2,995,000 | January-23 |
| Sold | Prestonshire Lane | 4 | 3 | 5,400 | $2,150,000 | December-22 |
| Sold | Tulip Lane | 5 | 5 | 5,800 | $2,699,000 | December-22 |
| Sold | Lakehurst Avenue | 5 | 5 | 6,700 | $2,900,000 | December-22 |
| Sold | Lakehurst Avenue | 5 | 5 | 11,000 | $3,600,000 | December-22 |
| Sold | Lakehurst Avenue | 5 | 5 | 7,100 | $3,850,000 | December-22 |
| Sold | Aberdeen Avenue | 4 | 4 | 5,300 | $2,395,000 | November-22 |
21
TOTAL  HOMES  SOLD
DAYS ON MARKET
TOTAL SOLD PRICE
SALES PRICE/ LIST PRICE
LOW
1
$825,000
88.2%
AVERAGE
43
$2,573,595
97.5%
HIGH
240
$4,292,500
115.2%
---
Preston Hollow Dallas Housing Market Report, East of Preston Rd. and North And South Of Walnut Hill Ln. up to $6 million- December 2022
ACTIVES
| | | | | | |
| --- | --- | --- | --- | --- | --- |
| Active | 3 | 2 | 2,400 | $769,000 | October-22 |
| Active | 3 | 2 | 1,900 | $995,000 | November-22 |
| Active | 5 | 6 | 5,100 | $1,750,000 | November-22 |
| Active | 6 | 6 | 5,000 | $2,100,000 | September-22 |
| Active | 5 | 4 | 4,900 | $2,150,000 | October-22 |
| Active | 6 | 7 | 5,200 | $2,295,000 | October-22 |
| Active | 5 | 8 | 6,100 | $2,499,000 | October-22 |
| Active | 4 | 4 | 4,600 | $2,795,000 | September-22 |
| Active | 6 | 6 | 5,200 | $2,895,000 | October-22 |
| Active | 4 | 8 | 6,900 | $3,099,999 | November-22 |
SOLDS
| | | | | | | |
| --- | --- | --- | --- | --- | --- | --- |
| Sold | Prestonshire Lane | 4 | 5 | 5,400 | $2,150,000 | December-22 |
| Sold | Lakehurst Avenue | 5 | 7 | 11,000 | $3,600,000 | December-22 |
| Sold | Lakehurst Avenue | 5 | 7 | 6,700 | $2,900,000 | December-22 |
| Sold | Tulip Lane | 5 | 6 | 5,800 | $2,699,000 | December-22 |
| Sold | Lakehurst Avenue | 5 | 8 | 7,100 | $3,850,000 | December-22 |
| Sold | Aberdeen Avenue | 4 | 6 | 5,300 | $2,395,000 | November-22 |
| Sold | Orchid Lane | 5 | 7 | 6,400 | $2,555,000 | November-22 |
HOMES SOLD PER MONTH
JAN      FEB     MAR     APR     MAY     JUN      JUL     AUG     SEP     OCT    NOV     DEC
100
TOTAL
HOMES SOLD
-40 FROM 2021
$2,414,842
AVERAGE SOLD PRICE
+28.0% FROM 2021
34
AVERAGE
DAYS ON MARKET
-18 FROM 2021
---
Preston Hollow Dallas Housing Market Report, East of Preston Rd. and North And South Of Walnut Hill Ln. up to $6 million- NOVEMber 2022
ACTIVES
| | | | | | |
| --- | --- | --- | --- | --- | --- |
| Active | 4 | 3 | 4,600 | $2,795,000 | September-22 |
| Active | 5 | 5 | 5,900 | $2,825,000 | November-22 |
| Active | 6 | 6 | 5,200 | $2,895,000 | October-22 |
| Active | 7 | 6 | 6,600 | $2,900,000 | September-22 |
| Active | 4 | 6 | 6,900 | $3,099,999 | November-22 |
| Active | 4 | 4 | 5,300 | $3,195,000 | October-22 |
| Active | 5 | 5 | 6,600 | $3,200,000 | November-22 |
| Active | 4 | 4 | 8,200 | $3,650,000 | October-22 |
| Active | 6 | 6 | 5,800 | $3,749,500 | March-22 |
| Active | 5 | 5 | 6,500 | $4,295,000 | October-22 |
SOLDS
| | | | | | | |
| --- | --- | --- | --- | --- | --- | --- |
| Sold | Del Norte Lane | 3 | 3 | 2,700 | $859,000 | November-22 |
| Sold | Lakehurst Avenue | 5 | 4 | 4,500 | $1,849,000 | November-22 |
| Sold | Orchid Lane | 4 | 4 | 4,700 | $1,950,000 | November-22 |
| Sold | Aberdeen Avenue | 4 | 4 | 5,300 | $2,395,000 | November-22 |
| Sold | Orchid Lane | 5 | 6 | 6,400 | $2,555,000 | November-22 |
| Sold | Woodland Drive | 6 | 5 | 5,200 | $2,895,000 | November-22 |
| Sold | Pemberton Drive | 5 | 5 | 5,800 | $3,199,000 | November-22 |
| Sold | Park Lane | 5 | 5 | 7,200 | $3,650,000 | November-22 |
PRESTON  HOLLOW NORTH AND SOUTH OF WALNUT HILL
8
Homes
Recently Sold
$2,535,548
Average Active
List Price
$2,349,375
Average
Sold Price
15
Average Days
On Market (Solds)
---
Preston Hollow Dallas Housing Market Report, East of Preston Rd. and North And South Of Walnut Hill Ln. up to $6 million- october 2022
ACTIVES
| | | | | | |
| --- | --- | --- | --- | --- | --- |
| Active | 3 | 2.0 | 1,500 | $650,000 | September-22 |
| Active | 3 | 3.0 | 2,800 | $859,000 | August-22 |
| Active | 6 | 4.2 | 5,000 | $2,200,000 | September-22 |
| Active | 4 | 3.2 | 5,500 | $2,250,000 | April-22 |
| Active | 6 | 6.1 | 5,200 | $2,295,000 | October-22 |
| Active | 4 | 4.2 | 5,400 | $2,395,000 | October-22 |
| Active | 5 | 5.1 | 6,300 | $2,450,000 | July-22 |
| Active | 6 | 6.0 | 7,200 | $2,690,000 | September-22 |
| Active | 5 | 5.1 | 5,900 | $2,699,000 | July-22 |
| Active | 4 | 3.1 | 4,700 | $2,795,000 | September-22 |
SOLDS
| | | | | | | |
| --- | --- | --- | --- | --- | --- | --- |
| Sold | Glendora Avenue | 4 | 3.1 | 5,200 | $1,790,000 | October-22 |
| Sold | Prestonshire Lane | 5 | 5.2 | 6,600 | $3,700,000 | October-22 |
| Sold | Aberdeen Avenue | 5 | 6.2 | 6,700 | $2,495,000 | October-22 |
| Sold | Deloache Avenue | 6 | 7.2 | 7,800 | $4,449,000 | October-22 |
| Sold | Del Norte Lane | 4 | 4.1 | 4,100 | $1,649,000 | September-22 |
| Sold | Joyce Way | 5 | 5.1 | 5,400 | $2,450,000 | September-22 |
| Sold | Park Lane | 3 | 3.2 | 3,900 | $1,850,000 | September-22 |
| Sold | Orchid Lane | 5 | 5.1 | 5,700 | $3,250,000 | September-22 |
8
Homes


Recently Sold

$2,745,417
Average Active


List Price

$2,550,938
Average


Sold Price

65
Average Days


On Market
---
Preston Hollow Dallas Housing Market Report, East of Preston Rd. and North And South Of Walnut Hill Ln. up to $6 million- September 2022
ACTIVES
| | | | | | |
| --- | --- | --- | --- | --- | --- |
| | 3 | 2 | 1,400 | $650,000 | September-22 |
| Active | 3 | 2 | 1,500 | $709,000 | June-22 |
| Active | 3 | 3 | 2,700 | $895,000 | August-22 |
| Active | 4 | 5 | 5,400 | $2,350,000 | April-22 |
| Active | 5 | 6 | 6,200 | $2,450,000 | July-22 |
| Active | 6 | 6 | 7,100 | $2,690,000 | September-22 |
| Active | 4 | 4 | 4,600 | $2,795,000 | September-22 |
| Active | 6 | 8 | 7,600 | $2,795,000 | September-22 |
| Active | 5 | 6 | 5,800 | $2,795,000 | July-22 |
| Active | 7 | 6 | 6,600 | $3,200,000 | September-22 |
SOLDS
| | | | | | | |
| --- | --- | --- | --- | --- | --- | --- |
| Sold | Del Norte Lane | 4 | 5 | 4,000 | $1,649,000 | September-22 |
| Sold | Joyce Way | 5 | 6 | 5,400 | $2,450,000 | September-22 |
| Sold | Park Lane | 3 | 5 | 3,800 | $1,850,000 | September-22 |
| Sold | Orchid Lane | 5 | 6 | 5,700 | $3,250,000 | September-22 |
| Sold | Tulip Lane | 5 | 5 | 5,100 | $3,000,000 | September-22 |
| Sold | Del Norte Lane | 4 | 4 | 3,300 | $1,020,000 | September-22 |
| Sold | Northwood Road | 4 | 6 | 4,800 | $2,100,000 | August-22 |
| Sold | Glendora Avenue | 6 | 6 | 5,400 | $2,895,000 | August-22 |
TOTAL HOMES SOLD
AVERAGE SOLD
PRICE
AVERAGE DAYS ON MARKET
AVERAGE
SOLD PRICE TO LIST PRICE RATIO
22
$2,227,000
44
98.5%
Q3 2021 Total:
Q3 2021 Average:
Q3 2021 Average:
Q3 2021 Average:
31
$2,185,870
30
98.8%
9 Less This Year
1.9% Increase This Year
14 Days More This Year
0.3% Decrease This Year
---
Preston Hollow Dallas Housing Market Report, East of Preston Rd. and North And South Of Walnut Hill Ln. up to $6 million- August 2022
ACTIVES
| | | | | | |
| --- | --- | --- | --- | --- | --- |
| | 3 | 2 | 1,500 | $709,000 | June-22 |
| Active | 3 | 3 | 2,700 | $895,000 | August-22 |
| Active | 3 | 2 | 1,600 | $899,000 | July-22 |
| Active | 3 | 2 | 2,500 | $1,365,000 | August-22 |
| Active | 4 | 4 | 3,700 | $1,795,000 | March-22 |
| Active | 4 | 4 | 3,900 | $1,895,000 | March-22 |
| Active | 4 | 3 | 5,200 | $1,950,000 | July-22 |
| Active | 4 | 3 | 5,400 | $2,400,000 | April-22 |
| Active | 5 | 6 | 6,700 | $2,495,000 | June-22 |
| Active | 5 | 5 | 6,200 | $2,599,000 | July-22 |
SOLDS
| | | | | | | |
| --- | --- | --- | --- | --- | --- | --- |
| Sold | Del Norte Lane | 3 | 2 | 2,300 | $1,399,000 | August-22 |
| Sold | Stichter Avenue | 5 | 5 | 5,400 | $2,650,000 | August-22 |
| Sold | Chevy Chase Avenue | 2 | 1 | 1,800 | $799,000 | August-22 |
| Sold | Aberdeen Avenue | 4 | 4 | 5,100 | $2,150,000 | August-22 |
| Sold | Glendora Avenue | 5 | 4 | 5,500 | $2,499,000 | August-22 |
| Sold | Stefani Drive | 5 | 5 | 7,300 | $3,950,000 | August-22 |
| Sold | Stichter Avenue | 4 | 4 | 5,400 | $2,449,000 | July-22 |
| Sold | Tulip Lane | 5 | 5 | 6,600 | $3,220,000 | July-22 |
| | | | |
| --- | --- | --- | --- |
| | DAYS ON MARKET | TOTAL SOLD PRICE | SALES PRICE/ LIST PRICE |
| LOW | 2 | $720,000 | 92.3% |
| AVERAGE | 23 | $2,363,000 | 103.6% |
| HIGH | 206 | $4,300,000 | 134.4% |
---
Preston Hollow Dallas Housing Market Report, East of Preston Rd. and North And South Of Walnut Hill Ln. up to $6 million- JULY 2022
ACTIVES
| | | | | | |
| --- | --- | --- | --- | --- | --- |
| | 3 | 2 | 1,500 | $729,000 | June-22 |
| Active | 4 | 4 | 3,300 | $1,095,000 | July-22 |
| Active | 3 | 2 | 1,600 | $1,100,000 | July-22 |
| Active | 4 | 5 | 3,700 | $1,795,000 | March-22 |
| Active | 4 | 5 | 3,900 | $1,895,000 | March-22 |
| Active | 3 | 5 | 3,800 | $1,900,000 | May-22 |
| Active | 4 | 4 | 5,200 | $1,950,000 | July-22 |
| Active | 4 | 5 | 5,400 | $2,400,000 | April-22 |
| Active | 5 | 6 | 5,400 | $2,450,000 | June-22 |
| Active | 5 | 7 | 6,400 | $2,450,000 | May-22 |
SOLDS
Sold
Tulip Lane
5
7
6,600
$3,220,000
July-22
Sold
Northwood Road
5
5
5,700
$1,950,000
July-22
Sold
Stefani Drive
5
7
5,100
$1,750,000
July-22
Sold
Glendora Avenue
4
4
3,800
$1,649,000
July-22
Sold
Royal Lane
5
5
4,000
$1,500,000
July-22
Sold
Tulip Lane
5
7
6,300
$3,350,000
July-22
Sold
Orchid Lane
5
7
6,100
$2,200,000
June-22
Sold
Mimosa Lane
5
5
5,200
$2,350,000
June-22
$2,670,978
Average Active
List Price

$2,291,250
Average
Sold Price

37
Average Days
On Market
---
Preston Hollow Dallas Housing Market Report, East of Preston Rd. and North And South Of Walnut Hill Ln. up to $6 million- JuNE 2022
ACTIVES
| | | | | | |
| --- | --- | --- | --- | --- | --- |
| STATUS | BEDS | BATHS | EST. SQ. FT.* | LIST PRICE | LIST MONTH |
| Active | 4 | 4 | 3,900 | $1,649,000 | June-22 |
| Active | 4 | 5 | 4,100 | $1,724,999 | May-22 |
| Active | 5 | 7 | 5,100 | $1,750,000 | June-22 |
| Active | 4 | 5 | 3,700 | $1,795,000 | March-22 |
| Active | 4 | 5 | 3,900 | $1,895,000 | March-22 |
| Active | 3 | 5 | 3,900 | $1,900,000 | May-22 |
| Active | 4 | 6 | 5,100 | $2,150,000 | June-22 |
| Active | 4 | 4 | 5,500 | $2,350,000 | June-22 |
| Active | 4 | 5 | 5,500 | $2,400,000 | April-22 |
| Active | 4 | 6 | 5,500 | $2,449,000 | February-22 |
SOLDS
| | | | | | | |
| --- | --- | --- | --- | --- | --- | --- |
| STATUS | STREET NAME | BEDS | BATHS | EST. SQ. FT.* | LIST PRICE | SOLD MONTH |
| Sold | Orchid Lane | 5 | 6 | 6,100 | $2,799,000 | June-22 |
| Sold | Norway Road | 5 | 7 | 6,300 | $3,895,000 | June-22 |
| Sold | Northport Drive | 4 | 4 | 4,600 | $2,495,000 | June-22 |
| Sold | Mimosa Lane | 5 | 7 | 7,200 | $2,995,000 | June-22 |
| Sold | Del Norte Lane | 4 | 5 | 4,000 | $1,649,000 | June-22 |
| Sold | Tulip Lane | 5 | 5 | 5,400 | $2,750,000 | June-22 |
| Sold | Aberdeen Avenue | 4 | 5 | 5,900 | $2,597,000 | June-22 |
| Sold | Glendora Avenue | 4 | 6 | 5,600 | $2,395,000 | June-22 |
13
Recently Sold
$2,689,745
Average List Price
9
Average Days On Market (Solds)
$2,346,882
Average Sold Price