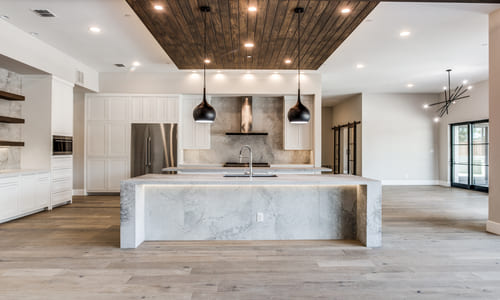 2024 Luxury Home Design Trends in the US
As we step into 2024, the world of luxury home design in the United States is poised for a transformative year. With a shift towards sustainability, technology integration, and a renewed appreciation for craftsmanship, the upcoming year promises to redefine opulence in the world of architecture and interior design. In this article, we will delve into the top luxury home design trends that will shape the landscape in 2024.
Sustainable Luxury
In 2024, sustainability isn't just a buzzword; it's a fundamental principle guiding luxury home design. Homeowners are increasingly seeking eco-friendly materials and energy-efficient systems to reduce their carbon footprint while maintaining a lavish lifestyle. Architects and designers are responding by incorporating renewable materials like bamboo, reclaimed wood, and energy-efficient technologies like solar panels and geothermal heating. Sustainable luxury is no longer an option but an essential element of high-end living.
Wellness-Centric Spaces
Wellness has taken center stage in luxury home design. In the wake of the global pandemic, homeowners are prioritizing mental and physical health like never before. This trend has given rise to spa-inspired bathrooms, meditation rooms, and even dedicated wellness centers within homes. These spaces are thoughtfully designed to promote relaxation, stress relief, and overall well-being, offering a sanctuary within the home.
Smart Home Integration
The integration of smart home technology continues to evolve in luxury residences. In 2024, homeowners can expect seamless connectivity through voice-activated assistants, advanced security systems, and intelligent appliances. These innovations enhance convenience, security, and energy efficiency while providing a futuristic and sophisticated touch to high-end homes.
Timeless Minimalism
Minimalism is making a bold comeback in luxury home design, with a focus on clean lines, neutral color palettes, and uncluttered spaces. This design trend emphasizes quality over quantity, showcasing carefully curated art and furnishings that exude sophistication and timelessness. Minimalism fosters an environment of tranquility and offers a sense of balance and harmony, perfect for luxurious living.
Artisanal Craftsmanship
In an age of mass production, homeowners are increasingly valuing the artistry and craftsmanship of bespoke pieces. From handcrafted furniture to custom-designed lighting fixtures, luxury homes in 2024 are embracing the unique and the handmade. This trend celebrates individuality and elevates the aesthetic appeal of interior spaces with one-of-a-kind creations.
Outdoor Oasis
Luxury home design extends beyond four walls, with outdoor spaces becoming an integral part of the living experience. In 2024, expect to see luxurious outdoor kitchens, infinity pools, and sprawling garden landscapes that seamlessly blend with the indoors. These outdoor oases provide a serene escape and create a sense of continuity between the interior and exterior of the home.
Biophilic Design
Biophilic design, which incorporates natural elements into the built environment, is gaining traction in luxury homes. In 2024, expect to find an abundance of indoor plants, natural materials, and large windows that allow for ample natural light. This design approach fosters a connection to nature, improves indoor air quality, and enhances the overall well-being of residents.
Conclusion
The luxury home design landscape in the United States is evolving rapidly in 2024, driven by sustainability, wellness, and a fusion of technology and craftsmanship. Homeowners are seeking not just opulence but also a meaningful connection to their living spaces. As architects and designers respond to these shifting preferences, we can anticipate a year of unparalleled innovation and elegance in luxury home design. In 2024, the pinnacle of opulence is defined by a harmonious blend of aesthetics, sustainability, and well-being, redefining what it means to live in luxury.
Debbie Murray of Allie Beth Allman & Associates represents buyers and sellers in the Dallas area.  Contact her today at 214-558-1004 to buy or sell your next luxury home.