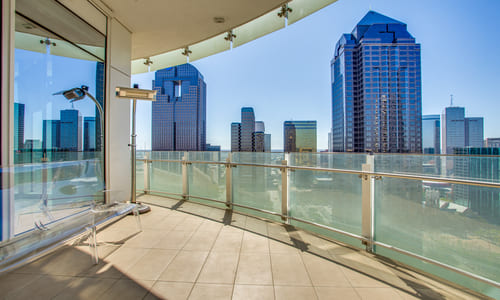 Sell your Dallas luxury condo with Texas Associate Broker Debbie Murray of Allie Beth Allman & Associates in Highland Park at 214-558-1004.
In 2016 Debbie Listed and Sold unit #2502 in Museum Tower in Downtown Dallas, in just four months.  Her seller informed her that their sale was the first resale unit in the building, as the building was only 50% sold out.  She went on to win "Best Marketing of a Property" that year at Leaders in Luxury for her creative and customized marketing plan for the 2016 condo sale.  An interesting fact about some of Dallas' high rise buildings is that the builder/developer floor plans include the terrace square footage in the total unit square footage.  This can come into play if a condo has an appraisal issue as most times air conditioned space is considered building square footage.
Debbie has access to many exclusive high rise listings loaded with amenities such as Museum Tower.  Some on the market and some private pocket listings.  Not sure which condo community best fits your needs?  Ask a pro.  The buildings are different and their amenities are too.  Some of the Dallas high rises have private garages, black car services, wine storage, media rooms, and more.  And of course, the condo view is key when pricing the condo.  Some Dallas condos are near flight paths, or have park, creek, or downtown views which may affect the resale of the property.  And the HOA dues vary per building, and they are usually based on the size of the unit in the building.  The larger the condo the higher the dues.  Whether selling or buying your Dallas luxury condo, work with an experienced agent who knows the condo inspectors, etc.  Contact Debbie to schedule a tour of exclusive high rises today or to sell yours.