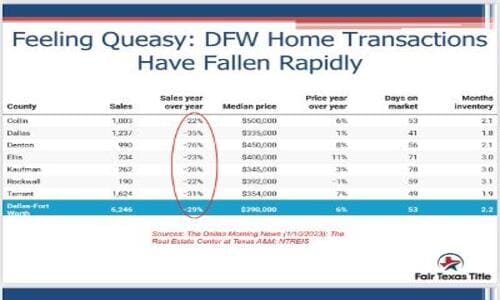 Dallas TX real estate transactions have fallen from last year per Debbie Murray of Allie Beth Allman & Associates at 214-558-1004.  Local economist, Britt Fair of Fair Texas Title, shared compelling stats with the luxury boutique firm of Allie Beth Allman & Associates.  Debbie says that selling your luxury home now could mean less competition when the spring market kicks in, which is usually after spring break.
Some sellers ask, "are buyers in the market place today?"  The answer is yes.  When the price of gasoline was high, people still bought gas.  Eggs are $5 per dozen and we still buy eggs.  And there are many reasons that people buy and sell homes, and most are not related to the economy.  These people are moving out-of-state, or moving into town, they have gone through a life event such as a death or a divorce, or they are upsizing or downsizing to name a few.
Debbie says that if a home is listed now (late January 2023), that the transaction could theoretically be closed and funded before spring break begins and more homes come on the market, even if the buyer has a conventional loan.  Even faster if the buyer purchases the home with cash.  Some sellers want to take advantage of this lack of inventory, and Debbie is ready to help them get their Highland Park, University Park, Preston Hollow, Plano or Frisco homes SOLD.  Contact her today for a market analysis, and to learn about her customized marketing plan for your luxury home.